Page Content
Contact
Parking - there's underground parking right next door to our shop, the enterance to the parking garage is just below the Tim Hortons on the Northeast corner of King St. & John St. We are a half block away. For more information on parking and other means of transportation please see below.
* Please provide the Product Code when inquiring about a particular item. For the fastest service, contact us in advance and we will have the item(s) available.
** If You would like to deal specifically with Cynthia Findlay, or if You are Looking to Sell, Please Make an Appointment.
Shopping Hours:
Open Tue-Sun 10am-6pm
Closed Monday
T: 416.260.9057 or 1.855.260.9057 toll free (Canada & USA)
F: 416.260.9951
Email: askcynthia @ cynthiafindlay.com (when emailing please remove the space before and after the @ symbol)
Shop Location:
We are located inside Toronto Antiques on King (Slightly Hidden Front Door)
284 King Street West (West of University Avenue and East of Spadina Avenue)
Toronto
Canada
M5V 1J2
We are located in Toronto Antiques on King, which is on the 1st floor in the Mirvish Enterprises Building, above DUNN'S Famous Deli and beside the Princess of Wales Theatre in the heart of the Entertainment District, just East of John Street. There's a Tim Horton's on the NE corner of King Street and John Street.
Lookout for these Banners.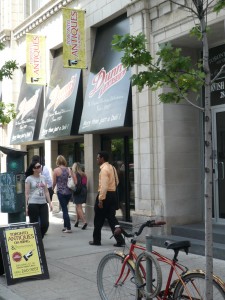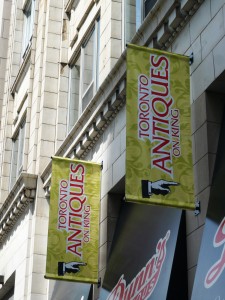 Driving - Street parking is available weekdays 10AM-3PM, all day Sat & Sun (free until 1PM Sun). There are also surface lots on John Street, one block west and off Duncan (Mirvish Way), two blocks north. And nearby, there is additional underground parking - off John Street (under Tim Horton's); the TIFF building and the Hyatt Hotel - both off Widmer Street. Plus off Wellington Street, there's Roy Thomson Hall and Metro Hall. All the underground parking areas have elevator access to King Street.
If parking weekdays on King street, please remove your vehicle by 3PM or if will be ticketed and towed to a secured holding compound which require payment in addition to the parking ticket before releasing your vehicle.
TTC - Exit at St. Andrew (King & University) and proceed west, either above ground along King Street or underground following the P.A.T.H. and surface at Metro Hall North which is across the street from Toronto Antiques on King.